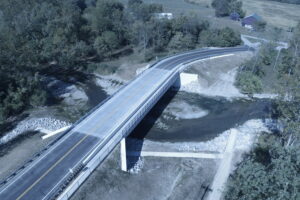 The County Engineer's major responsibility – the upkeep of roads and bridges – is primarily financed by highway user fees such as motor vehicle fuel taxes and license registration fees, averaging $12 million annually. Supplemental funds (voted bond issues and levies, as well as fines) are available for specific highway improvements.
Fuel taxes earmarked for highway purposes are levied at the state and federal levels of government. State revenues are distributed for use on the state, county, township, and municipal roadway systems by means of statutory formulas. The amount of the tax varies depending upon legislative action. Some monies distributed to the states from federal funds are passed on to local governments on a project-by-project basis.
The income from state motor vehicle registration fees (after state administrative costs are deducted) is returned to the local government units on the basis of a statutory formula. Currently the distribution percentages average 71% for counties, 24% for municipalities, and 5% for townships.
All revenue is important as local match money for leveraging state and federal grant money. Butler County is one of Ohio's fastest growing counties, which puts a strain on existing roadways that were not originally designed to handle today's high traffic volumes. The BCEO has been a leader among Ohio counties in the aggressive pursuit of state and federal grants to adequately fund much-needed projects and keep traffic flowing smoothly and safely. For a full explanation of federal, state, and local funding sources, please see Funding Sources.