NEW educational resource from BUILD THE ERA for children & adults: Ronda Loves Roundabouts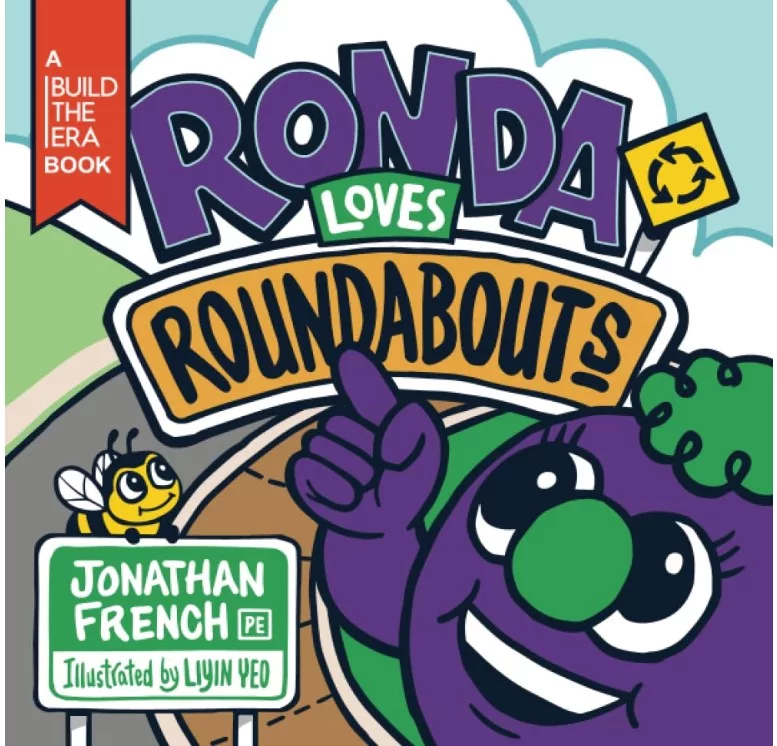 MULTI-LANE ROUNDABOUTS ARE HERE IN BUTLER COUNTY!
NEW information/instruction below. We want to equip you with all you need to know about driving through a multi-lane roundabout with confidence.
THESE GREAT RESOURCES MAY BE DOWNLOADED FOR A CLOSER LOOK AT THE BOTTOM OF THIS PAGE .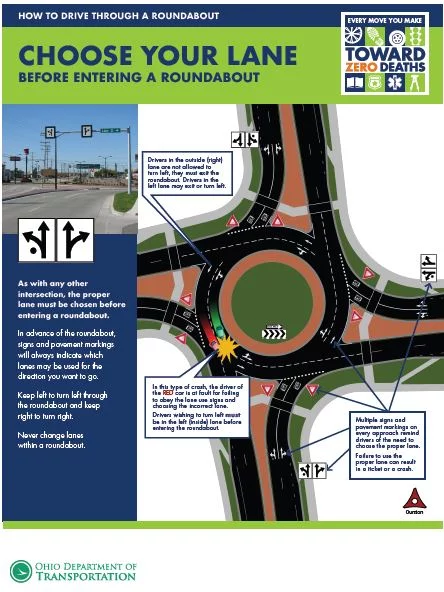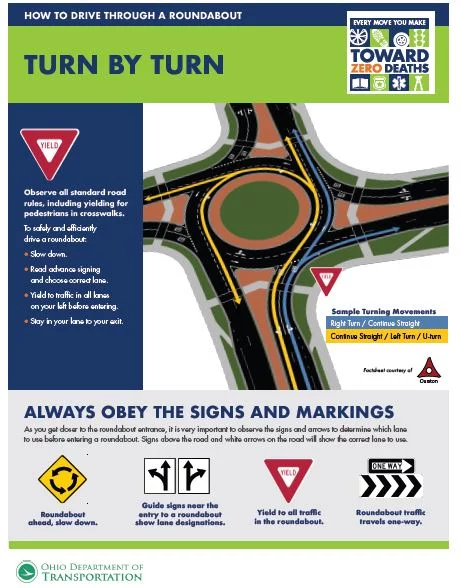 Traffic roundabouts made their first appearances on major Butler County roads in 2008. Modern roundabouts were built at the Hamilton Mason Road / Liberty Fairfield Road / Vinnedge Road intersection as well as at the Lakota Drive West and Eagleridge Drive intersection. Since then additional roundabouts have been installed and more are being planned. See the current list at the bottom of this page.
This alternative to typical at-grade intersections offers improved safety while keeping traffic flowing at slower speeds through the intersection. Some motorists may require a little tutoring on just how roundabouts function and how to best use them. So we've created a downloadable INFOGRAPHIC that explains the benefits of a roundabout and how to approach, yield, enter, and exit a roundabout. It also shows more details such as location, maintenance responsibility, and type of roundabout.

"It's the number 1 tool in our toolbox." – Greg Wilkens, Butler County Engineer
Check out this informative video from Utah Dept. of Transportation on roundabouts that showcases the benefits of roundabouts in a unique way! Its points are easy to understand and apply as you drive through Butler County roundabouts.
.
MODERN ROUNDABOUTS IN BUTLER COUNTY (COMPLETED)
Centre Pointe Dr & West Chester Towne Center (2006)
University Dr & Dudley Dr (2007)
Hamilton Mason Rd & Liberty Fairfield Rd (2008)
Lakota Dr West & Eagleridge Dr (2008)
Jacksonburg Rd & Morganthaler Rd (2010)
Trenton Rd & Busenbark Rd (2011)
Kyles Station Rd & Lesourdsville West Chester Rd (2012)
Yankee Rd & Kyles Station Rd (2013)
Millikin Rd & Mauds Hughes Rd (2013)
SR 748 & Layhigh Rd (ODOT) (2015)
Eaton Rd & Beissinger Rd (2015)
Cincinnati Dayton Rd & Kyles Station Rd (2016)
Civic Centre Blvd & Bass Pro Dr (2017)
Princeton Rd & Yankee Rd (2017)
Beckett Rd & Smith Rd (2018)
Millikin Rd & Yankee Rd (2018)
Hamilton Mason Rd & Lesourdsville West Chester Rd (2018)
Hamilton Mason Rd & Gilmore Rd (2019)
Gray Rd & River Rd (City of Fairfield) (2019)
Lesourdsville West Chester Rd & Beckett Ridge Blvd (2020)
SR 73 & Jacksonburg Rd (ODOT) (2021)
Millikin Rd & Lesourdsville West Chester Rd (South Leg) (2021)
Butler Warren Rd & West Chester Rd/ Socialville Foster (2021)
Butler Warren Rd & Barret Rd/Western Row Rd (2021)
Wayne Madison Rd & Trenton Rd (2021)
Hamilton Mason Rd & Tylersville Rd – Five Points (2022)
Veterans Blvd – two roundabouts (2022)
Ohio 129/ Liberty Way & I-75 at Cox Rd (2021-22)
US 127 & SR 73 (ODOT) (2022)
Stahlheber Rd & Morman Rd (2023)
Tylersville Rd & Beckett Rd (2023)
Princeton Rd & Mauds Hughes Rd (2023)
PLANNED MODERN ROUNDABOUTS
Millikin Rd & Morris Rd (2024)
Seward Rd/ Vinnedge Rd & Tylersville Rd (City of Fairfield/Fairfield Twp) (2024)
Millikin Rd & Lesourdsville West Chester Rd (North Leg) (2025)
Cox Rd & Kingsgate Wy (2026)
McCauly Rd & Dimmick Rd (2026)
S.R. 32 & Stillwell Beckett Rd (ODOT) (2028)
Neighborhood traffic circles
Seward Rd & Kohn Dr (1997 – City of Fairfield)
Seward Rd & Essex Orchard Station Dr (1997 – City of Fairfield)
Hughes Ln E & Hughes Ln W (1998)
Hutzelman Wy & Plum Tree Dr (2002)
The Trails Blvd & Cambridge Dr/Kensington Trl (2002)
Berkshire Pl & Amberley Ct/Wiltshire Ct (2002)
Aspen Trails Blvd & Aspenwood Dr (2003)
Carriage House Blvd & Thoroughbred Ln/Winners Circle Dr (2014)
Feedback from Local Motorists
"I love the traffic circles…I'm glad to hear you're engaging with the schools and driving schools (to educate motorists on how to properly use a modern roundabout)."
"As a resident of Butler County, I would like to commend you on the installation of roundabouts for traffic flow at intersections. Having lived in the United Kingdom and Europe where they are extensively used, I find them safer and better assist the flow of traffic than regular stop intersections…Keep up the good work."
On the Hamilton Mason/Vinnedge/Liberty Fairfield Road roundabout: "It is SO cool. Good job (Mr. Wilkens)! Only other place I have experienced this wonder of roadwork is in Sarasota FL at St. Armands Circle. Agan, So Cool! Thank you for making my morning and evening commute easier."
"Very innovative! I like the roundabouts."
"I first had the privilege of using roundabouts in Hilton Head and I love them. Thanks for constructing a few of them here. I have used both the Hamilton Mason and the Lakota West roundabouts and they are very smooth. The landscaping is coming along and should look great next spring. I think these will be great experimental areas to try these and I look forward to seeing more throughout the county. Thanks again."
---