The Butler County Engineer's Office is pleased to report the recent honor of receiving the 2021 Donald C. Schramm Transportation Improvement Award for projects under $5 million. Recognizing efficiency, safety, and quality of life, the American Society of Highway Engineers (ASHE) Triko Valley Section presented the award to the BCEO as owners, design firm Burgess and Niple, and general contractor R.B. Jergens. The $2.4 million improvement to Butler County infrastructure was built in cooperation with the City of Trenton and funded with federal and state funds.
"I was confident Butler County motorists would quickly understand how to maneuver this multi-lane roundabout and enjoy its safety benefits, as well as the decrease in train event backups," said County Engineer Greg Wilkens. The first of its kind in Butler County, this roundabout was designed with extra lanes to allow east-west traffic flow and added storage during a train event. For additional safety, a traffic detection system activates special signage to alert drivers not to block the circular travel lane during a train event.
Click here for December 2021 instructional video of Wayne Madison @ Trenton roundabout!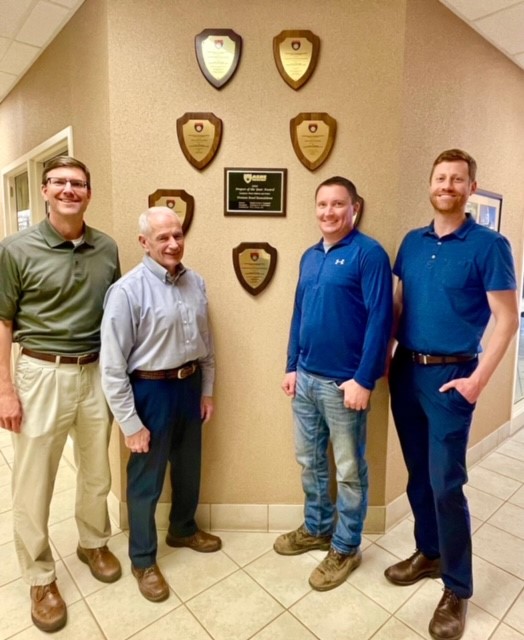 (Left to Right) Traffic Engineer Matt Loeffler, County Engineer Greg Wilkens, Construction Manager Erich Ziegler, Design Engineer Matt Brubaker
ASHE -Triko Valley Donald C. Schramm Award winners: BCEO, RB Jergens, Burgess & Niple