(FairfieldTownship and City of Hamilton)
Work begins August 12th to construct a new roundabout at Hamilton Mason Road and Gilmore Road, according to County Engineer Greg Wilkens. Located on the border of Fairfield Township and the City of Hamilton, the intersection has seen increasing amounts of traffic as commercial development continues to flourish in southeast Butler County.
The project will realign Gilmore Road with Hamilton Enterprise Park Drive at Hamilton Mason Road and will involve the construction of a single-lane roundabout with curb and gutter, lighting, and a storm sewer system. A construction contract was awarded to Sunesis Construction Company of West Chester which submitted a low bid of $1,763,803. Funding will consist of local funds provided by the BCEO and Fairfield Township. All work is scheduled for completion by mid-November 2019, weather permitting.
Road Closing and Maintenance of Traffic
Hamilton Mason Road will close for construction beginning Monday, August 12, 2019, during which access to the hospital may be gained from the east entrance on Hamilton Mason Road or Tylersville Road. During the road and intersection closures, local access will be maintained for residents, businesses, and emergency vehicles up to the project limits, but motorists will not be permitted to pass through the actual construction zone. The roundabout will be installed during Phase 1, allowing Hamilton Mason Road to be open to through traffic when Gilmore Road is closed in Phase 2. Detours will be posted for all through traffic during each phase of construction.
Phase 1 – Detour for Hamilton Mason Road:
Westbound Hamilton Mason Road traffic will detour south on S.R. 4 Bypass and west on Tylersville Road. Eastbound traffic will reverse this route. Access to the hospital will be from the east entrance on Hamilton Mason Road and Tylersville Road.
Detour Map #1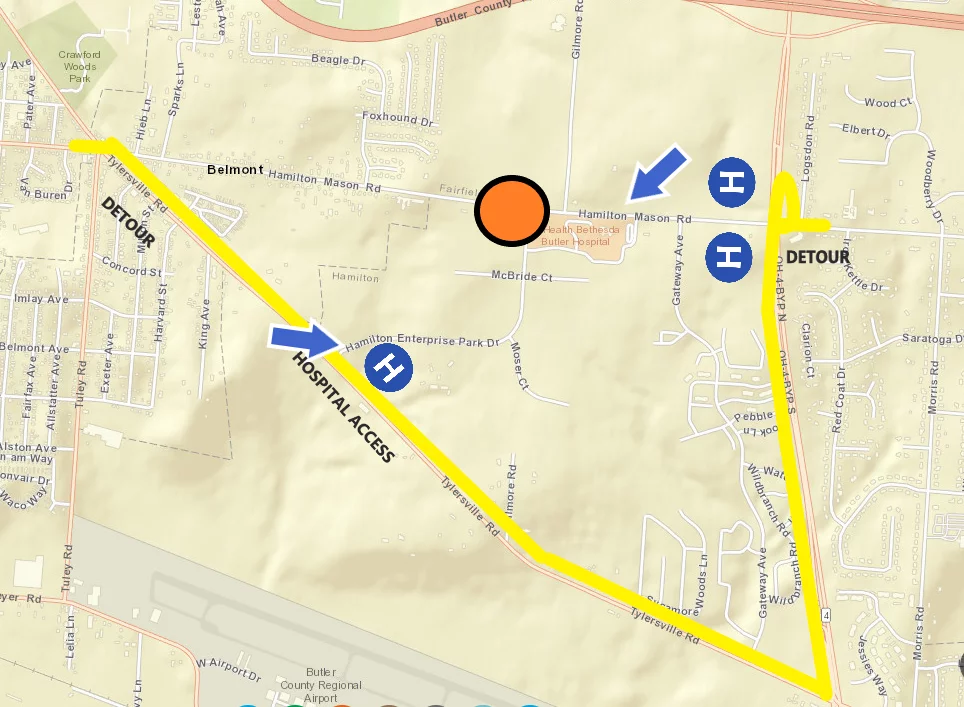 Phase 2 – Detour for Gilmore Road:
Northbound Gilmore Road traffic will detour east on Hamilton Mason Road, north on S.R. 4 Bypass, and west on Princeton Road. Southbound traffic will reverse this route.
Detour Map #2